The product (Antichi Ricami - Sampler broderie suisse) you have been looking for is not available in our catalog and/or it has been cancelled and it probably will not been restocked. We are sorry!
Sampler broderie suisse, 26x24 cm
The "broderie suisse" or "chicken scratch" as this technique is known in the States, needs for a specific checked fabric on which different stitches are used: double cross-stitch, running stitch and circle stitch. In the chart these stitches are all well explained by instructions and pictures. The most suitable thread for this type of embroidery is the white perlé, 5 or 8 (also Restors d'Alsace nr. 8 can be employed) according to the dimensions of the fabric check. This embroidery fits all stitchers, from experts to newcomers!
Designed by Maria Concetta Ronchetti ©
Maria Concetta Ronchetti is one of the most appreciated Italian embroidery designers. She has founded the Arte del Filo association which is aimed at spreading the art of the antique Italian embroidery.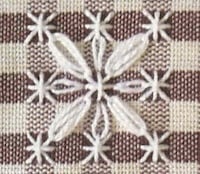 To see the list of materials needed to complete this project click here.

Read the post on this product in our blog
If you like » Sampler broderie suisse « we suggest to you also ...
Material List for: Sampler broderie suisse
Use Anchor Threads • Use Venus Threads • Use DMC Threads • Use Profilo Threads
Here you can find the list of materials (fabric, threads, beads, etc.) which are necessary to complete the Sampler broderie suisse.
We have inserted for each item the necessary quantities. You can obviously change them according to your needings/requests. When you have arranged the quantities click on the button IN CART at the end of the list and all the products with a quantity different from 0 will be inserted in your shopping cart
If you want to buy only the chart click on the button IN CART above the list.
Customers who bought this product also purchased ...
Antichi Ricami - Bestsellers
Products to consider - Suggested according to what other customers are viewing now
Top
»
Sampler broderie suisse
From:
Antichi Ricami