Blog News
European cross-stitch: Châtelaine Designs
Date Added: 05/16/2011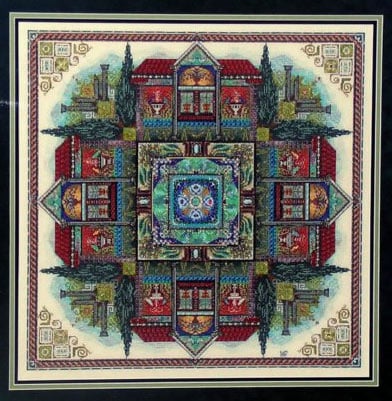 Here is for all of you Châtelaine Designs, a new brand with a French name but produced by a German designer, Martina Rosenberg.
As the author herself explains, the main characteristics of this brand are the Mandala Gardens and in general all the motifs inspired and influenced by the gardens all over the world, and also by the art and architecture of all times and places.
Actually the patterns by Martina are perfectly geometrical and rich in shades taken from nature. The composition of motifs, the presence of different shapes (squares, triangles, rectangles) and the color interplays make us think about quilting or patchwork projects. Instead we are facing some works to cross-stitch and, when specified, to embroider with special stitches. But Martina loves experimenting, so that she has also created some jewels and now she is realizing some patterns uniting cross-stitch with patchwork itself.

So, let's start knowing her a little bit better and admire the first patterns inserted in our catalog:

Replies View ...
Login to add a comment or reply.