Blog News
The new book by Bernadette Baldelli: Broder les Poyas
Date Added: 09/14/2011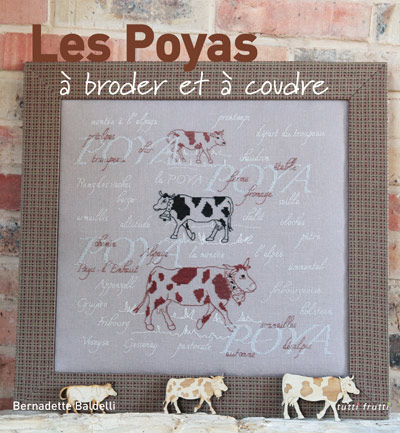 Bernadette Baldelli is one of the jurors of our contest featuring Abilmente, i.e. A kit… an idea (if you want to know the other names of the jury read here). So, it's a "double" pleasure for us to present you her second, brand new, book Les Poyas à broder et à coudre published by the French brand Tutti Frutti. A "double" pleasure because it is always a honor to present in our catalog the latest works of artists and designers that with elegance and originality create new cross-stitch, counted-stitch, hardanger patterns etc… And, as a second reason, because this author is a nice and very pleasant Swiss woman whom Marie Suarez has introduced to us. A very gentle, kind and polite woman



So, after the success of her Créations en fleurs de laine, Bernadette has dedicated her new book to her country by proposing to us a long walk among the Alps, in the middle of meadows and cows. You do not need to travel and wear a mountain suit to get into a real Alps atmosphere. This book is full of projects for all those who love Alps, mountains and who want to follow with cross-stitches some paths among villages and flowers. A lot of naïf pictures which remind of old memories and a wonderful childhood. Cows, bells, woods: the Swiss atmosphere will be all over the kitchen and the dining-room!

During Abilmente Bernadette Baldelli will sign her book for all of you!
Login to add a comment or reply.