Blog News
The Scarlett House: a cross-stitched house
Date Added: 12/28/2011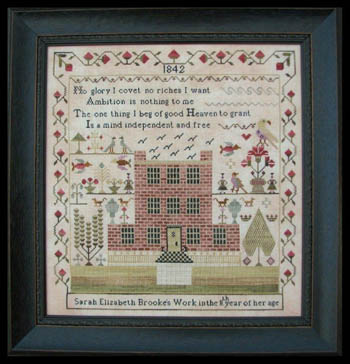 A little house in the American countryside, with its red roof and porch standing out in the cultivated fields, where you can stitch at ease, sitting comfortably in a rocking chair.
The American dream of well-being and serenity gets true in a few cross, in the projects from The Scarlett House designed by Tanya Brockmeyer.

In one of the many primary schools in Arizona, Tanya learnt how to create little projects with thread and needle, sometimes quite "elaborated", such as embroidered aprons. From those sewing classes at school, Tanya started to get closer and closer to the world of stitching, enjoying customizing her jeans, cushions and bags with letters and patterns. Selecting a decoration, a fabric and the floss and then… Turning a cloth into a real masterpiece! That's exactly what Tanya loves of her job as a designer, which she actually think of mainly as a relaxing hobby, rather than an actual business.

And, to be true, Tanya's first projects were meant for herself or as presents for her dearest friends: scissors fobs, samplers, cases… All these designs later became the first charts under her brand The Scarlett House such as the pleasant Maddie Button, conceived by Tanya for those who, just like her, are vegetarians, but love good cooking anyway.

Among her best sellers, we can find Hannah Tingey 1823 the repro of an antique sampler, full of elegance and modernity at the same time. And samplers are definitely the subject Tanya loves most! As a matter of fact, she also designed the colorful Emma Mills 1839 and the house made of bricks depicted in Sarah Elizabeth Brooke 1842.

And just to keep on enjoying the lovely Xmas atmosphere of these days, here are the green and red pattern of The Scarlett House and the pin cushion Jingle All The Way that we love dedicating to you all out there, as our Happy Holidays!
Login to add a comment or reply.