Box Nostalgia Blue
When a lovely design meets practicalness. This tin box, with its vintage repro on, is a perfect and original gift idea, but, most of all, it's an elegant way to store all your craft necessities.
Size: 14 cm. x 8.70 cm. x 5.50 cm.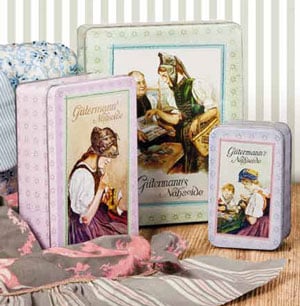 EAN: 4008015002046

Product usually available for shipping in 21 days.

There are 0 opinions about this product. ... Perhaps yours is still missing?
If you like » Box Nostalgia Blue « we suggest to you also ...
Customers who bought this product also purchased ...
Products to consider - Suggested according to what other customers are viewing now
Top
>
Haberdashery & Acc.
>
Organizers, Baskets, Boxes
»
Box Nostalgia Blue
From:
Gütermann
guetermann Gutermann polyester