Lovely Blue

A kit with 8 spools of 100-m Cucitutto floss and matching design little scissors. It's the perfect present or the ideal collection item, but it's also, more simply, the best way to always have your complete set of blue shades of this handy and useful floss at hand, suitable for any kind of sewing.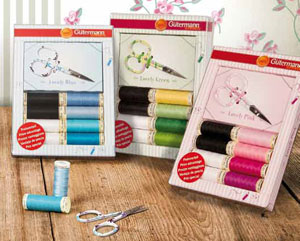 EAN: 4008015146887
Immediately Avalaible


There are 0 opinions about this product. ... Perhaps yours is still missing?
If you like » Lovely Blue « we suggest to you also ...
Customers who bought this product also purchased ...
Products to consider - Suggested according to what other customers are viewing now
Top
>
Threads
>
GŁtermann
>
Sew-all Thread 100mt.
»
Lovely Blue
From:
GŁtermann
guetermann Gutermann polyester