Stitch with both hand without hand cramps! Adjustable lap stand includes:
Two 12" (30cm) E-Z Stitch No-Basting System scroll rods,
Two 6" (15cm) side bars,
One 14" (36cm) adapter bar to accommodate 6", 8", 10" and 12" (15cm, 20cm, 25cm, 30cm) scroll rods,
10 knobs,
One 3-yd. roll no-basting strips for fabric.
Adjustable clamp will hold all types of stitching devices. No assembly required. Swing the scroll frame up to tie your stitches.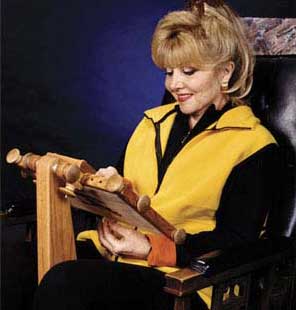 EAN: 683496600017
Immediately Avalaible


There are 11 opinions about this product. ... Perhaps yours is still missing?
If you like » E-Z Stitch Lap Stand « we suggest to you also ...
Customers who bought this product also purchased ...
American Dream - Bestsellers
Products to consider - Suggested according to what other customers are viewing now
Top
>
Haberdashery & Acc.
>
Hoops & Frames
»
E-Z Stitch Lap Stand
From:
American Dream