55100 AccuQuilt GO! Fabric Cutter
Fast, precise and revolutionary: a compact machine – hand-operated, so cost-effective and eco-friendly, too – to cut your quilting fabrics easily and quickly (90% faster than scissors and rotary cutters!), but, most of all, in the most varied and creative shapes. From now on, you're going to love applique even more!
Note: the product includes •GO! fabric cutter •GO! fabric cutting die •GO! cutting mat •free pattern •user's manual •die pick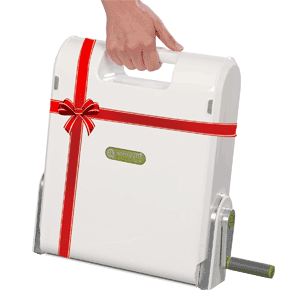 Note: due to dimensions and weight, the shipping cost for this product will be increased by 5.90€. We do not guarantee the shipping of this product to non-European countries.

Read the post on this product in our blog
Immediately Avalaible


There are 1 opinions about this product. ... Perhaps yours is still missing?
If you like » Go! Fabric Cutter « we suggest to you also ...
Customers who bought this product also purchased ...
Products to consider - Suggested according to what other customers are viewing now
Top
>
Haberdashery & Acc.
>
Machines
»
Go! Fabric Cutter
From:
Accuquilt