The product (DMC - DMC Memory - 6070 Green) you have been looking for is not available in our catalog and/or it has been cancelled and it probably will not been restocked. We are sorry!
DesirčŠ by DMC ... where thread magically transforms into jewellery!
Special Thread for jewelry. It has the ability to maintain the form you like.
Lenght: 5mt.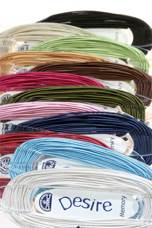 If you like » DMC Memory - 6070 Green « we suggest to you also ...
Customers who bought this product also purchased ...
Products to consider - Suggested according to what other customers are viewing now
Top
»
DMC Memory - 6070 Green
From:
DMC